Shopping for a new, used or Certified Pre-Owned Chevy and want to see which model is best suited to your lifestyle? Turn to the experts at Beaverhead Motors. Our friendly sales staff will compare new Silverado trims and provide a comprehensive review of the full Chevy SUV lineup to ensure you know about the capabilities of your new-to-you ride. Swing by our Chevy dealership near Ennis to get behind the wheel of a new Chevy model that's capable of towing your boat, camper and more. We're here to help you explore our selection of SUVs and trucks, so visit our showroom for a streamlined and stress-free car-buying experience. Before you know it, you'll be driving home in a Chevy Silverado or Trailblazer for sale nearby that your entire family will cherish.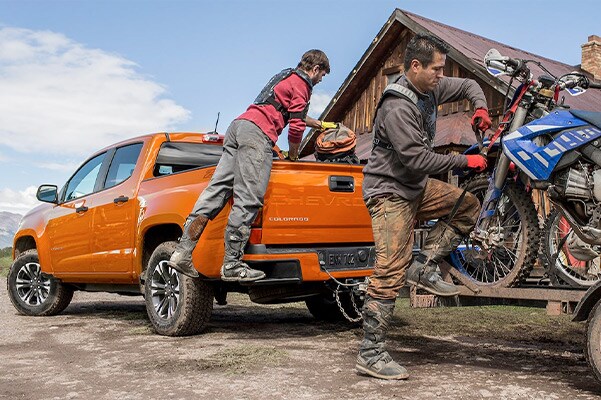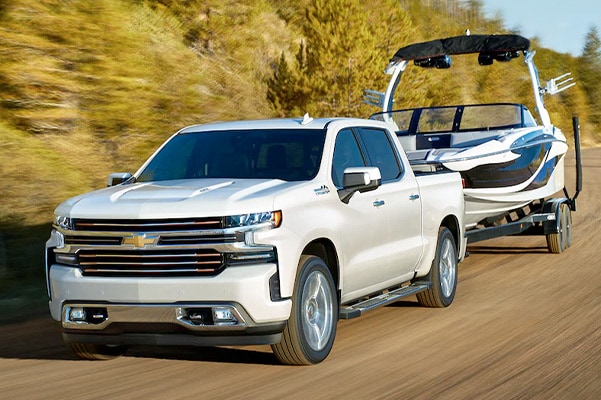 2022 CHEVY TRUCKS FOR SALE NEAR ENNIS, MT
---
| Model | 2022 Chevy Colorado | 2022 Chevy Silverado | 2022 Chevy Silverado 2500 HD | 2022 Chevy Silverado 3500 HD |
| --- | --- | --- | --- | --- |
| Maximum Towing Capacity (lbs.) | 7,000 | 13,300 | 18,510 | 36,000 |
Whether you're looking to finance a new Silverado 1500 or drive home in a Chey Silverado HD lease, you'll have all the power you need for the jobs in your future. When you visit our nearby Chevy dealership, you can compare new Silverado trims and engine options, and get behind the wheel of the new Chevy truck that best suits your needs. The 2022 Chevy Silverado towing capacity will leave you in awe, offering up to 13,300 pounds of max trailering weight when equipped with a 6.2-liter V8 engine. Additionally, you can opt for the 2.7-liter turbo engine and receive rugged towing capabilities, excellent Silverado mpg ratings and up to 310 horsepower.
Meanwhile, if you're in search of a truck with even more power and torque, then you'll love the new Silverado 2500 HD, which offers up to 18,510 pounds of towing capacity. For the biggest towing jobs, you'll want to buy a 2022 Silverado 3500 HD near Ennis, which boasts a 36,000-pound tow rating when equipped with a Duramax® 6.6-liter V8 Turbo-Diesel engine.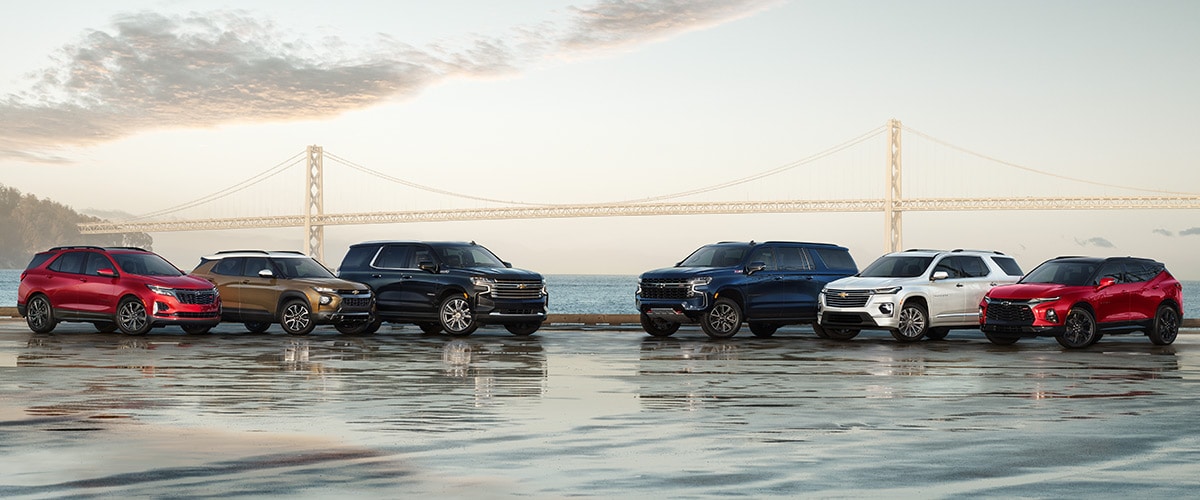 2022 CHEVY SUVS IN DILLON, MT
---
| Model | 2022 Chevy Equinox | 2022 Chevy Blazer | 2022 Chevy Traverse | 2022 Chevy Tahoe | 2022 Chevy Suburban |
| --- | --- | --- | --- | --- | --- |
| Maximum Towing Capacity (lbs.) | 1,500 | 4,500 | 5,000 | 8,400 | 7,600 |
Are you looking to upgrade to a new Chevrolet SUV, but find yourself wondering, "how much can a Chevy SUV tow?" Our nearby Chevy dealership can help. When properly equipped, the new Blazer towing capacity can reach up to 4,500 pounds, giving you enough muscle to haul your camping essentials. If you require extra strength under the hood, opt for the spacious Chevy Tahoe to gain improved towing capabilities. The impressive Tahoe tow capacity can reach 8,400 pounds, leaving competitors in the dust and redefining what an adventure-ready SUV can be. Whether you want to hitch up your teardrop trailer or haul a jet-ski, your new Chevy SUV will be more than ready for whatever lies ahead.
Contact Beaverhead Motors to schedule a Chevy Suburban test-drive or learn more about the new Silverado towing capacity. We have several Chevy trucks for sale near Ennis on our lot, so hurry in to view the new Silverado specs and drive home in the Chevy model that best suits your needs today!